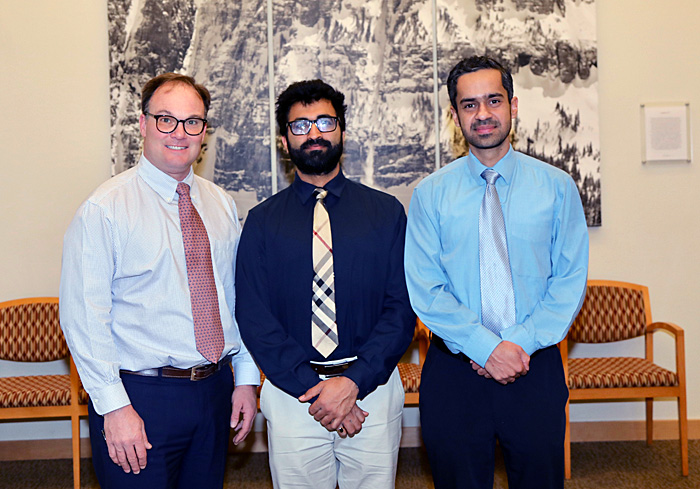 San Juan Oncology Associates' physicians, nurses and Clinical Research Coordinators are highly trained, experienced and certified oncology/hematology specialists. They regularly attend national conferences to remain current in new developments and to reinforce professional interactions with oncology and hematology professionals in specialized centers throughout the United States. Should a patient require a procedure or treatment not available at our center, our physicians employ these ties as well as their comprehensive knowledge of current oncology and hematology literature to refer the patient to an appropriate center. Additionally, our physicians are fully credentialed and offer both inpatient and out-patient treatment.
Through our participation in collaborative networks of Clinical Research Centers throughout the nation and internationally, we offer both standard treatments and the newest and most promising experimental treatments available through clinical trials. (Please see "Clinical Trials" tab). In doing so, we follow all standards of patient care proscribed by the National Comprehensive Cancer Network (NCCN) and the American Society of Clinical Oncology (ASCO).
As a collaborative partner of San Juan Regional Medical Center, we employ an electronic medical record system that provides our physicians with immediate access to results of any diagnostic testing our patients receive at the center's hospital.  This computerized program also calculates chemotherapy dosage levels based on proven standards such as patient body size, weight and any individual medical factors your physician adds to the calculation. In addition, the computer program also checks for possible drug interactions, including any non-prescription medications a patient is taking.
This state-of-the-art medical records system also facilities the billing process to insure timely payment/patient reimbursement from health insurance.
It should be noted that San Juan Regional Medical Center has led the community-wide effort to establish the electronic medical system linking health care providers throughout our area for the benefit of patients and providers alike.  This successful process distinguishes our medical center as one of the relatively few in the country that have yet tamed the medical information highway.