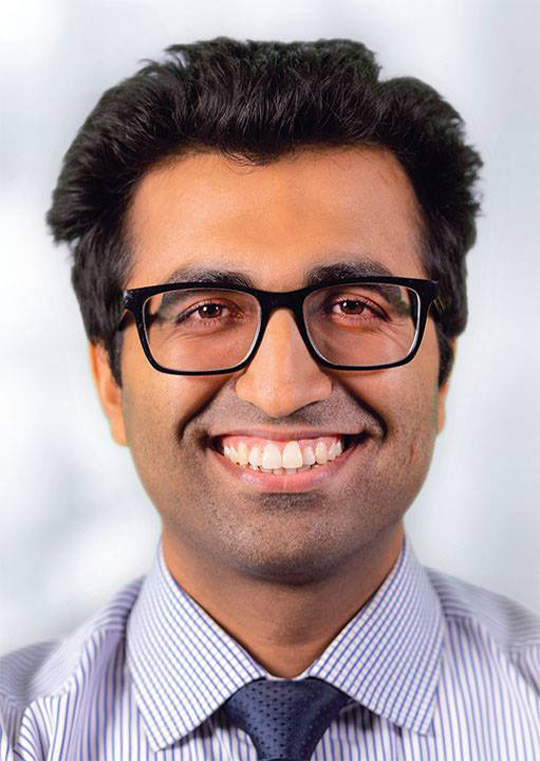 Born and raised in Delhi, India, I believe I was destined to become a doctor.  Both my father and grandfather were doctors, and throughout my childhood I admired their abilities to bring compassion and healing to others.  It seemed an awesome gift and responsibility, as well as a fulfilling way to conduct one's life.
The specialty of Hematology/Oncology appealed to me as one that was rapidly advancing, particularly in our understanding of the molecular and genetic influences present in cancer and blood diseases.  I'm particularly interested in lymphomas (especially non-Hodgkins'), myelomas, gastrointestinal, thoracic and breast cancers.
Keeping pace with new developments is an ongoing challenge that means there are always promising new methodologies for dealing with our patients' problems.  Our field is one in which we can offer significant relief from discomfort as well as treating disease itself. Furthermore, our patients' and their families' need for compassion and understanding is a personal challenge I welcome and enjoy fulfilling. I believe it is one of the greatest benefits of the Hematology/Oncology field that we are able to bond with our patients and families over extended periods of time: personal satisfaction and spiritual growth are the rewards we reap from these experiences.
I'm excited to begin my experience in Farmington (September 2018).  I'm an avid skier and have a lifelong love of mountains and the many outdoor activities they enable.
Dr.  Anand earned his M.D. from India's top-ranked University College of Medical Sciences and GTB Hospital in Delhi in 2011. His residency included experience in the bone marrow transplant unit of the National Heart Lung Blood Institute in Bethesda, Maryland.   Acquiring additional training, he entered a 3-year Hematology/Oncology Fellowship program at SUNY Upstate Medical University in Syracuse, N.Y. where he was appointed Chief Fellow for the Hematology/Oncology division for 2017/2018.  He will complete his Hematology/Oncology certification in July and join SJOA in September of 2018.